Vueeelve el cineforum! Con más pinchos! Con docus de duración normal! Con subtitulos traducidos al charro profundo! Lo tiene todo, y quizá sea el último del curso. Buscaremos bollería vegana incluso si ni por esas os animáis.
Empieza el v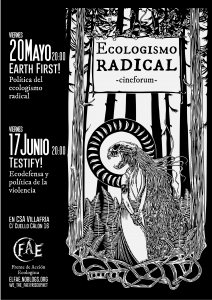 iernes 20 de mayo, a las 20:00, con "Earth First! Política del ecologismo radical" que cuenta a través de entrevistas las ideas base (bastante base, porque tiene material de finales de los 80) de este movimiento, especializado en tácticas de acción directa, que dio lugar al Earth Liberation Front y que perdura hoy día. Por si no os convence todavía, sale el pintapresas de DamNation en sus años mozos. Y canciones chachis para dar la turra al personal.
PD. En el debate surgió el tema de la incoherencia de gente que critica el sistema tecnológico e industrial mientras usa micrófonos en medio del bosque. Hoy, uno de los protagonistas del vídeo compartía en su facebook este artículo sobre el tema: cómo las corporaciones no sólo externalizan gastos, sino también la culpa We have met the wrong enemy
Un mes más tarde, el viernes 17 de junio, con "Testify! Ecodefensa y política de la violencia" queremos abordar el tema de la definición de violencia, su supuesto uso en movimientos de resistencia social y cómo afecta al ecologismo.
Menos cañas y más montaña!